Introduction to Tool Hiring
Creating a warm, inviting, and comfortable home often requires some degree of renovating, repairing, and enhancing your living space. However, this frequently involves using specialized tools and equipment that may seem unnecessary to purchase for occasional DIY projects or minor fixes around the house. This is where tool hire comes in – allowing you convenient, cost-effective access to the professional-grade tools you need without the burden of buying.
Tool hiring has become an increasingly popular trend, providing homeowners, renters, and even professional contractors an affordable way to get the ideal tools for any home project. Hired tools provide flexibility, allowing you to only pay for what you need when you need it. From basic hand tools to power drills, saws, and sanders, tool hire companies offer specialized equipment to tackle any job.
Hiring tools rather than purchasing brings many benefits. It saves you money in the long run, provides access to an extensive range of specialized tools, avoids the hassle of maintenance and storage, enables you to try tools before buying, reduces waste from single-use tool purchases, and supports a sharing economy. Keep reading to understand why tool hiring is the smart choice to create your ideal living space.
Why Tools Matter in Home Decor
Creating a cozy, comfortable home often requires using specialized tools – whether for building furniture, installing lighting, renovating rooms, or adding those finishing touches. The right tools allow you to take DIY projects from drab to fab with ease and precision. Having access to the best equipment makes decorating much smoother.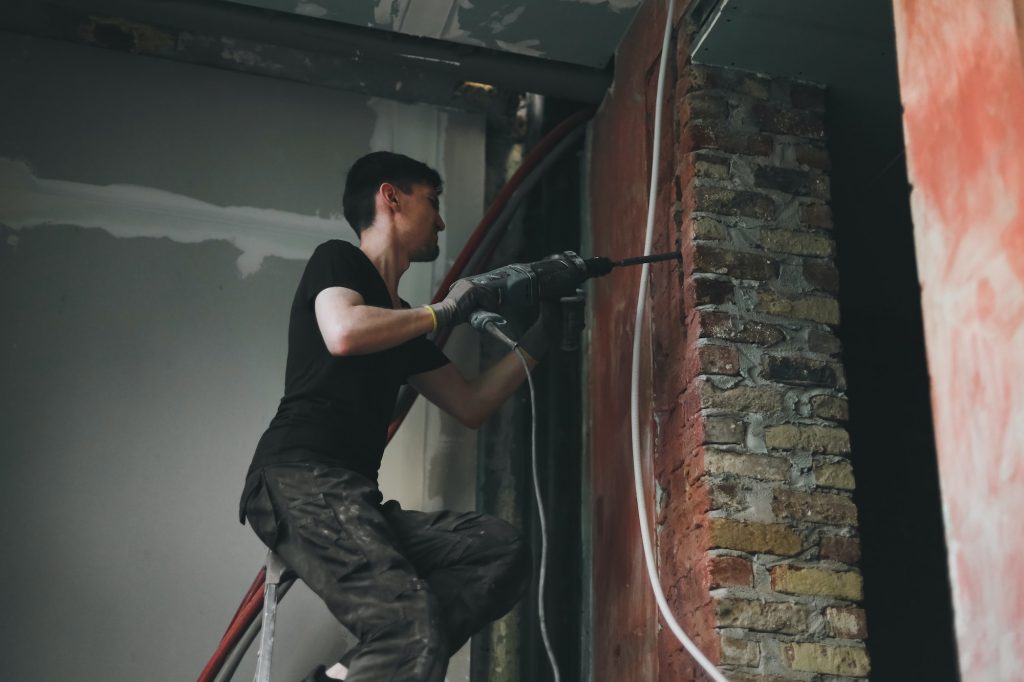 From hammers and drills for installing shelves or artwork to saws for cutting framing material, miter boxes for angled trim cuts, levels and squares for alignment, clamps to hold materials in place, and more – having the right tools for the task is essential. Power sanders provide flawless finishes on custom-built furniture, table saws rip lumber with accuracy, and staple guns securely fasten upholstery fabric.
You may not need these specialty tools daily, but when it comes time to decorate or renovate your home, having the right equipment saves time, money, and frustration. The specialized nature of decorating tools makes hiring ideal – allowing you to avoid buying tools that simply gather dust until your next project.
The Rise of the Tool Hire Trend
Tool libraries and hire shops have grown in popularity, providing convenient access to specialty equipment as the needs arise. Homeowners enjoy the benefits of tool hire for occasional DIY tasks and renovations. The tool hire industry has expanded to meet demand, valuing sustainability and smart consumerism.
Research shows tool hiring among UK homeowners increased 70% from 2010 to 2015. The trend spans generations, from Baby Boomers to Millennials who value the sharing economy. The rise in hire culture reflects changing mindsets favoring access over ownership. Consumers increasingly want flexibility and cost savings but not the burden of maintaining seldom-used items.
Tool hire allows you to borrow equipment and return it after use rather than cluttering your home with more possessions. The model has grown popular for infrequent projects, as-needed repairs, and trying tools before buying. Rental periods often range from just four hours to multiple days.
As the tool hire industry continues to rise, expect more specialty decorating tools to become available. From tile cutters to paint sprayers, virtually any equipment you need for DIY projects can be hired. Take advantage of this growing trend and avoid needless tool purchases.
Cost-Effectiveness of Hiring vs. Buying
Purchasing tools, especially higher-end professional models, requires a significant upfront investment that may not make financial sense for occasional use. Tool hire provides a budget-friendly alternative, allowing you to save substantially compared to buying.
Hiring tools is ideal for one-off jobs or infrequent DIY projects. The costs are far lower than purchasing outright. For example, you may spend $50-100 to hire a tile cutter for a weekend bathroom renovation versus $300+ to buy. The same applies for pricier power tools like table saws ($50-100 hire vs. $800+ purchase) and heavy-duty drills ($15-25 hire vs. $150+ purchase).
Beyond avoiding the initial purchase costs, tool hire also saves you money by:
Skipping maintenance expenses like blade replacements, repairs, tune-ups
Avoiding storage space needs like sheds, garages, or off-site units
Preventing tools from sitting idle between infrequent uses
For contractors, hiring allows passing tool costs onto clients versus tying up capital. It also provides access to an unlimited range of gear based on specific job needs. The numbers demonstrate that occasional tool use makes hiring the clear cost-saving choice.
Access to Professional-Grade Equipment
Tool hire companies offer professional-contractor grade equipment far beyond the quality of consumer DIY models. When hired tools leave the shop, they are in pristine, like-new condition. Leading hire companies invest in premium gear from trusted brands like DeWalt, Bosch, Metabo and more.
Professional models feature:
Commercial grade power and performance
Precise calibration for accuracy
Durable construction for heavy use
Advanced safety mechanisms
Ergonomic design for comfort
As a homeowner, you can benefit from using these high-end tools that are too expensive to justify buying for occasional use. Enhance your projects by hiring pro gear designed for extended heavy-duty use despite your limited needs.
Hire companies also invest in the newest equipment with the latest features. For example, you can hire a cordless power drill with lithium batteries providing longer runtime versus an outdated corded model. Take your DIY skills up a notch with specialty pro tools.
Avoiding the Hassle of Maintenance
Purchased tools require proper maintenance and care to keep them performing like new – adding time and hassle between uses. Proper cleaning, blade changes, belt replacements, oiling, tune-ups and more are essential. But tool hire companies handle all of that for you.
Maintenance costs add up for power tools requiring frequent blade and bit replacements. However, with hired tools, worn-out parts are replaced by the hire company between uses at no added expense. You also skip hassles like:
Tuning up engines on petrol-powered equipment
Sharpening chisels, planes, and blades
Replacing worn brushes and bearings on power tools
Cleaning equipment after dusty jobs
Checking tire pressure on wheeled tools
Avoid maintenance headaches by hiring tools serviced by experts. Simply return dirty, worn, or damaged equipment and get a like-new replacement on your next hire. Let the tool company handle upkeep while you focus on your project.
Space-Saving Benefits of Tool Hire
Purchasing infrequently used specialty tools leads to clutter from extra possessions that require storage space. Hiring tools eliminates that issue, with no need to dedicate shed, garage, or basement space to tools gathering dust.
Power tools like table saws, tile cutters, and cement mixers are bulky and require substantial storage real estate when not in use. Even smaller hand tools accumulate, taking up valuable room in your home. Tool hire solves the storage problem by providing access without acquisition.
With hire, you only keep tools on-hand while actively using them for your project. Free up home space and gain convenience by having tools delivered when you need them. Avoid wasting money on storage units or sheds to house an unused tool collection. Only pay for what you actually use.
Short-Term Projects: Why Buy When You Can Hire?
For single-use DIY tasks or short-term projects, tool hire is the obvious choice compared to buying tools with limited use potential. The cost savings are clear for equipment you may only need once or for a few days.
Short-term tool needs vary by project: laying new floors (nail gun), installing cabinets (impact driver), building a deck (circular saw), remodeling a bathroom (tile cutter), painting the exterior (paint sprayer), etc. Hiring for these one-off uses saves significantly versus purchasing outright.
You also avoid the hassle of reselling tools after a limited scope project. Tool hire keeps your costs proportional to the project size. Spend less by hiring high-quality tools tailored precisely to your short-term needs.
Understanding the Different Types of Tools Available
Tool hire companies offer a vast selection spanning all needs – from robust power tools to basic hand tools. Understanding the range and applications of hire tools allows you to make the best choices for your projects.
Power Tools: The Game Changers
Power tools provide the performance for major renovation, construction, and carpentry work, allowing you to work faster and with enhanced precision. Common hire items include:
Saws – Circular, miter, table, reciprocating, chop for cutting wood, metal, tile
Drills – Cordless, hammer, SDS for driving screws, holes, chiseling
Sanders – Belt, orbital, palm for smoothing and finishing
Planers and Joiners – Shape and join wood precisely
Nail Guns – Finish, brad, framing for nailing efficiency
Grinders – Angle, die, bench for grinding, sharpening, and cutting
Air Compressors – Power pneumatic tools like nailers
Hand Tools Essentials for Minor Fixes
For smaller jobs, intricate work, and finishing touches, hand tools get the job done. Common hire items include:
Hammers – Claw, ball peen, mallet for pounding and nail pulling
Screwdrivers – Flat, Phillips head, Torx in all sizes
Wrenches – Spanner, socket, Allen key for nuts and bolts
Pliers – Slip joint, needle nose, channel lock for gripping
Chisels – Wood, concrete, bolt for cutting and shaping
Planes – Block, jointer for smoothing wood
Levels – Standard, torpedo to ensure surfaces are flat/plumb
Squares – Framing, trimming for straight cuts and angles
Scrapers – Flooring, paint for surface finishing
Clamps – C, bar, pipe, spring to hold materials
With this range of tools available for hire, you can find the specialized equipment needed for any home project.
Safety Protocols with Hired Tools
When hiring tools, every company should provide guidance on safe operation to avoid hazards and prevent injuries or property damage. While hired tools are professional-grade and well-maintained, improper use can still be dangerous.
Key safety practices include:
Reading tool manuals and following all instructions
Understanding kickback risks with saws if blades jam
Wearing protective gear like goggles, dust masks, gloves
Operating tools with proper guards in place
Ensuring adequate workpiece support and clamping
Avoiding loose clothing or jewelry that can catch
Maintaining awareness of power cords and hoses to prevent tripping risks
Checking that bits and accessories are securely installed
Unplugging tools before any adjustments or changing blades
Returning damaged or malfunctioning equipment immediately
Responsibility for safe operation ultimately lies with the renter. Ask questions about any tool you are unfamiliar with and request guidance from staff. By staying safe, you can have a positive hire experience.
Ensuring Quality: What to Look for When Hiring Tools
Not all tool hire companies are created equal in terms of equipment quality, selection, and service. Seek out an established company with a reputation for providing well-maintained gear and stellar support. What should you look for?
A broad inventory of tools spanning both common and specialty items
A fleet of tools no more than 2 years old on average with the latest models
An emphasis on premium professional brands known for quality
Regular maintenance to keep tools performing like new
Careful inspection and cleaning of returned equipment
Friendly, knowledgeable service to assist with tool selection and safety
Fair pricing in line with equipment condition and age
Convenient hours and locations with an easy hire process
Avoid companies with dated equipment and limited selection. Seek out hire shops prioritizing new professional-grade tools across diverse categories. Then you can tackle projects confidently with quality kit.
The Green Side of Tool Hiring
The tool hire model has environmental benefits compared to traditional purchasing. By avoiding ownership, hiring reduces waste, materials use, pollution, and resource consumption for infrequently used tools. Hire shops support the green economy.
Tool manufacturing has impacts through:
Materials extraction for metals, plastics, batteries
Energy use for production and transport
Emissions from manufacturing processes
Waste from discarded low-quality tools that fail
Every new tool produced depletes natural resources and creates carbon emissions. Tool hire reduces these impacts by keeping equipment in use across multiple jobs rather than being disposal after one task. Well-maintained hire tools have long lifetimes, avoiding scrap waste.
For the eco-conscious, tool hire adheres to the 3 R's: reduce, reuse, recycle. You minimize your environmental footprint by only using what you need when you need it.
Reducing Carbon Footprint with Tool Hire
The tool hire model offers a lower lifetime carbon footprint compared to buying and disposing of tools after limited use. By sharing access to equipment, each tool offsets many purchases and reduces environmental impacts.
Studies estimate an individual homeowner can reduce lifetime carbon emissions by 2-4 metric tons on average through tool hire rather than owning. A wider adoption of hiring would have significant climate benefits.
Carbon reductions result from:
Lower production – Less manufacturing of underutilized tools
Optimized transport – Tools moved locally, not to each home
Prolonged tool life – Equipment used for years, not disposal
Waste reduction – Less scrap and single-use tool disposal
Resource sharing – Higher use rate per tool across renters
Tool hire keeps equipment in circulation. Any required new production replaces many individually-owned tools. Help lower your environmental impact by hiring instead of buying when possible.
The Financial Sense Behind Tool Hiring
The cost savings and flexibility of tool hire make financial sense for the average home DIYer who only needs specialty tools occasionally. While professionals may benefit from ownership, hiring brings key money-saving advantages for homeowners.
Purchase costs – Avoid high upfront investment for tools bought outright
Usage optimization – Pay only for the days used versus tools sitting idle
Future uncertainty – No need to predict which tools you may someday need
Maintenance savings – Let the hire firm handle all repairs/upkeep
Easy returns – Offload tools you no longer need
Cost control – Spend less by using only the required tool for your specific project scope
For those with limited storage space and infrequent tool needs, hire conquers the cons of owning while providing convenient access to specialty equipment. The finances strongly favor tool hire for casual DIYers.
Exploring the Most Popular Hired Tools
While hire companies offer a huge selection of equipment, a few key tools cover common needs for the average DIY home project. Here are top items every hire shop should stock:
Drills and Drivers
Drills bore holes while drivers fasten screws – both essential for assembling and mounting. Look for cordless li-ion powered models which offer versatility and high torque in compact packages. Quality brands include Makita, DeWalt, and Milwaukee.
Saws
circular saws make straight cuts in wood and light metal while jigsaws manage tight curves. Miter and table saws improve trim cutting precision. Reciprocating saws cut pipe, wood, and more. Coleman, Bosch, and SKIL offer reliable saws.
Sanders
Orbital and detail sanders smooth surfaces and prep them for finishing. Belt sanders efficiently remove material for shaping. Name brands include Porter-Cable, Festool, and Bosch.
Wrenches and Pliers
A quality adjustable wrench loosens nuts and bolts in multiple sizes. Pliers help grip and turn hardware. Needle nose and channel lock pliers prove useful. GearWrench, Crescent, and Irwin are top brands.
Having these core tools available from quality brands ensures you can tackle most common home repairs and improvements with ease.
Drills and Drivers: The Basics
No toolkit would be complete without a proper power drill and driver. Their versatility makes these some of the most frequently hired tools. Let's explore the key characteristics and differences between the two.
Drills utilize rotating drill bits to bore holes in materials like wood, metal and masonry. A quality drill offers adjustable clutch settings to optimize torque and prevent damage while drilling. Keyless chucks allow quick bit changes. Hammer function provides impact drilling.
Drivers utilize drive bits to fasten screws and other hardware. The increased torque compared to a drill prevents cam-out striping screw heads. Impact drivers provide extreme torque for heavy duty fastening. Adjustable clutch settings prevent over tightening.
While drills can drive screws, a dedicated driver works better. However, drivers cannot drill holes. For versatility, the best approach is hiring a drill/driver set with both tools. Quality brands like Makita, Milwaukee, and Bosch combine power, reliability, battery life, precision, and ergonomics.
Saws: Cutting with Precision
Saws are one of the most versatile hired tools for residential projects. With the variety available, there's a saw suited to any cutting application. Here's a quick overview of popular types:
Circular Saws – Ideal for straight cuts in wood and sheet goods
Miter Saws – Chop at angles for clean trim and molding cuts
Jigsaws – Tight curves in wood with fine blade control
Reciprocating Saws – Fast cuts in wood, pipe, and other materials
Table Saws – Large tabletops provide stable rip cuts in wood
Chop Saws – Cut metal, tile, and masonry with abrasive wheels
Cordless circular saws offer lightweight convenience while table saws excel at ripping lumber and sheet goods with precision. Quality brands like Makita, DeWalt, Bosch, and SKIL deliver reliable cutting performance. Ensure the blade type suits your material – framing blades for fast wood cuts, fine blades for tight curves. Finally, always use proper safety gear like goggles when operating saws to prevent injuries from flying debris. With the right saw type and safe practices, you can achieve any cut.
Sanders: Achieving the Perfect Finish
Sanders smooth surfaces and remove material, preparing your work for stain, paint, or other finishing. Orbital and detail sanders are ideal for finishing work while belt sanders efficiently remove larger amounts of material for shaping and leveling.
Orbital Sanders – Versatile for finishing wood and metal surfaces. Operate in an elliptical motion to avoid scratches.
Belt Sanders – Remove substantial material quickly with a continuous loop abrasive belt. Great for major shaping.
Detail Sanders – Precisely sand tight spots and detailed edges. Use finger-sized profiles.
Palm Sanders – Compact and ergonomic for fine finishing work. Easy to control.
Quality brands like Bosch, Makita, and DeWalt offer models matched to your sanding needs. Seek variable-speed control and dust collection attachments to manage messes. Proper grit selection ensures fast, smooth results.
Wrenches and Pliers: The Unsung Heroes
Don't overlook the importance of basic hand tools like wrenches and pliers for repair and construction jobs. Here are some types to look for:
Adjustable Wrenches – Single tool adjusts to grip various bolt and nut sizes
Socket Wrenches – Interchangeable sockets tackle projects requiring multiple fastener sizes
Pliers – Needle nose, water pump, locking styles provide solid gripping and turning ability
Quality brands include Craftsman, Gearwrench, Channellock, and Irwin. Keep tools clean and lubricated to prevent rusting. Hire backup options in case of slippage or minor damage. Wrenches and pliers may not be glamorous but they're essential!
The Role of Measuring Tools
Precision work demands accurate measuring tools. Consider hiring levels, squares, measuring tapes, and lasers to achieve exact cuts, drill holes, and alignments.
Levels – Check surfaces are flat and plumb. Torpedo levels allow angled use.
Squares – Ensure precise 90 and 45 degree cuts and alignments. Framing squares and combination squares prove useful.
Tapes – Measure and mark distances. Look for 25-30 foot standout length.
Lasers – Create perfect level and plumb reference lines for lining up work.
Quality measuring tools prevent costly miscuts and errors. Don't ignore these critical hire items!
Lighting Solutions for Working Safely
Proper lighting prevents mistakes and injuries when using tools or navigating work sites. Consider hiring:
Portable Work Lights – Illuminate interior work areas. LED models provide bright, energy efficient lighting.
Flood Lights – Powerful beam reaches exterior work areas.
Headlamps – Hands-free light for precision tasks. Choose adjustable beams.
Extension Cords – Safely deliver power to lights and tools.
Ensure adequate overhead and task lighting in all work areas. Eliminate shadows and eye strain. Lighting allows power tools to be operated safely and accurately for quality results.
The Importance of Proper Tool Storage
After completing projects, proper storage keeps hired tools organized, protected, and accounted for. Utilize:
Toolboxes – Protect small hand tools like hammers, wrenches and pliers. Pick models with customizable compartments.
Toolbags – Safely transport and store loose tools to prevent loss. Features like shoulder straps improve mobility.
Cases – Designed for specific tools like drills, saws, sanders to prevent damage. Pick rigid cases.
Racks – Store long tools vertically against walls to save floor space.
Lockboxes – Secure expensive or dangerous tools like guns and generators.
Proper storage preserves tool condition and organization between uses. Return hired tools in their original case or bag. Avoid damage/theft!
Training and Tool Use: Getting the Best Results
Quality results require knowing how to properly operate each tool you hire. Seek training opportunities and guidance including:
Instruction manuals – Review safety, setup, care, and operating procedures.
Online tutorials – View video instructions from the tool manufacturer.
In-store guidance – Ask hire shop staff to demonstrate tool use if unfamiliar.
Trade schools – Take a short course tailored to specific tools.
DIY workshops – Attend a class teaching tool skills.
Try before you hire – Request to test a tool at the hire facility.
Tool hiring comes with responsibility to use equipment properly. Take time to build knowledge through training resources before tackling big projects.
The DIY Movement and Tool Hiring
The growing DIY movement has fueled the tool hire industry, allowing homeowners to take on an expanded range of projects. Hire shops empower the average DIYer to achieve professional-level results.
DIYers seek cost savings, customization, and a sense of personal accomplishment from home projects. But lack of experience and equipment access once limited the project scope. Tool hiring provides specialty gear needed for more advanced work like:
Framing, wiring, plumbing a basement remodel
Installing new floors, cabinets, tile
Building customized furniture and storage
Major landscaping renovations
Tool companies have responded with DIY-focused models, tutorials, project ideas, and hire offerings. For passionate DIYers seeking to elevate their skills, tool hire opens exciting possibilities.
Hiring Tools for Specific Projects
Certain tools are specially suited for popular DIY and home improvement projects. Here are top hire recommendations:
Flooring – power nailers, table and miter saws, jigsaws, impact drivers, pry bars
Tiling – tile saws, mixers, trowels, grout floats, sponges, buckets
Painting – paint sprayers, rollers, brushes, drop cloths, scrapers, sanders
Landscaping – tillers, power rakes, lawn mowers, chainsaws, wheelbarrows, axes
Fencing – post hole diggers, tamping tools, saws, nail guns, measuring tools
Decks – circular saws, drill/drivers, sanders, routers, levels, nail guns
Drywall – screw guns, lifts, stilts, sanders, plastering tools, utility knives
Consult with hire staff to optimize tool selection for any residential project. The right kit makes the work faster and more professional.
Renovating on a Budget: How Tool Hire Helps
Major renovations often require specialty tools spanning plumbing, electrical, woodworking, demolition, and construction work. Tool hire enables taking on big projects on tight budgets.
Ambitious renovations like kitchen overhauls, basement finishing, master suite additions allow you to increase living space and home value. But they require equipment that, if purchased, could cost thousands:
Power saws, nailers, sanders, drills and more for construction
Jackhammers, concrete saws, rebar benders for demolition
Scaffolding, lifts, mixing equipment for access and materials
Generators for off-grid power
Tool hire avoids the huge upfront expense, allowing you to tackle substantial renovations at reasonable cost. Take that dream project from blueprint to reality with strategic tool rentals.
The Future of Tool Hiring
Technological advances will continue shaping the tool hire industry. Convenience and instant access are increasing with digital platforms.
Online hiring – Search tools, compare companies, and reserve online 24/7. Digital convenience grows in popularity.
Smart tools – Internal sensors will track tool data like run time, maintenance needs, and misuse.
Greater variety – Advancing technology expands the specialty tools available for hire. 3D printing allows custom production.
Delivery networks – On-demand delivery of tools is on the rise. Order from your phone and get delivery to your door.
Virtual/augmented reality – Simulations will allow trying tools digitally before hiring. AR will guide tool use.
The tool hire experience will only become more tailored, convenient, and tech-driven in the coming years as adoption expands.
Exploring Tool Hire Packages
Many hire companies now offer pre-configured tool packages catering to common projects. This simplifies hiring an optimized toolkit. Request packages for:
Flooring – nail guns, saws, bars, laser level
Fencing – post hole digger, tamper, nail gun, circular saw
Painting – sprayer, brushes, rollers, drop cloths, hooks
Plumbing – pipe cutters, wrenches, torch, flux, emery cloths
Electrical – voltmeter, strippers, cutters, fish tape, cable crimper
Masonry – mixers, trowels, hammers, saws, floats, shovels
Kits bundle all the tools needed for a particular job. Take the guesswork out of tool selection and save money with package deals.
Understanding Deposit Costs in Tool Hiring
Most hire companies require a deposit which is refunded upon the tools' safe return. Deposit amounts vary by tool type and value.
Hand tools may only require a $5-20 deposit while power tools range from $50 for a drill to $500+ for expensive generators. Larger equipment like lifts and scaffolding can cost $1000+ to deposit.
Understand:
Deposits are fully refundable if tools are returned clean, undamaged, and on time
Excessive damage or lateness results in forfeiting some/all deposit
Some companies accept non-refundable damage waiver fees instead of deposits
Don't let high deposits deter you if genuinely caring for the tools. Protect your investment by handling hired equipment with care.
Reading the Fine Print: Tool Hire Agreements
To avoid disputes or surprise fees, understand all terms and conditions before hiring tools by:
Reading the full hire contract/agreement carefully
Clarifying terms like rental period, late fees, damage policies
Noting any excluded activities like commercial use
Inspecting tools thoroughly at pick-up for any prior damage
Documenting all pre-existing wear and tear in writing/photos
Getting copies of any paperwork you signed
Understanding the deposit refund process
By knowing the details up front, you avoid nasty surprises from the hire company. Never assume anything not explicitly stated!
The Ethics of Tool Manufacturing vs. Hiring
Tool hiring promotes sustainability and ethical consumption by keeping equipment in circulation longer. Tool manufacturing raises some ethical concerns.
New tool production utilizes natural resource extraction. Manufacturing processes can involve unethical labor practices, workers' rights violations, uncontrolled pollution, and other issues in facilities with limited regulation.
But hiring means less new manufacturing demand, extending use of existing tools. Greater adoption of tool libraries would promote positive change through:
Reduced mining for metals, minerals, and petroleum-based plastics
Lower carbon emissions and waste generation
Incentivizing companies to design for durability and recyclability
Providing options beyond consumption for tool access
The tool hire model supports reduced and more thoughtful consumption. For deeper change, ethically-made products are also essential.
Local vs. National: Choosing a Tool Hire Service
When hiring tools, you can choose between small local businesses or national chains. Weigh these factors:
Local
Supports community businesses and employment
Potential for more personalized service and expertise
Limited to region-specific inventory
National
Convenience and consistency of franchise brands
Expansive inventory shared across all locations
May lack local community focus
There are benefits to both options. Compare inventory, rates, and service. Try local first but use chains to supplement for speciality tools if needed. Splitting hire needs allows you to support local business while still accessing specialty inventory.
The Role of Customer Reviews in Tool Hiring
With many hire firms to choose from, customer reviews provide useful insight into quality, service, and value. Seek companies with:
Numerous positive Google and Facebook reviews
Satisfied customers across years of operation
Quick responses to any negative reviews
Specific feedback praising staff expertise and tool quality
Photos of the tool fleet and facilities
Detailed, consistent reviews indicate a high-quality operation committed to great service and tools. Beware of shops with no reviews or concerning complaints. Research thoroughly before hiring!
Emergency Repairs: The Advantage of Tool Hire
When disaster strikes with a burst pipe, electrical failure, or other home emergency, tool hire provides immediate access to the equipment needed for urgent repairs and damage control.
Waiting days or weeks for tool deliveries is not an option in an emergency. The ability to hire right away is crucial for:
Fixing water pipe ruptures to stop flooding
Using sump pumps and dehumidifiers for quick water extraction after flooding
Making electrical repairs to restore power
Cutting out water-damaged walls/flooring to halt mold growth
Securing damage from storms until professional repairs can occur
Don't be caught without the tools to minimize harm from home emergencies. Know your local hire options in advance.
Seasonal Tools: Making the Most of Hiring
Certain tools have seasonal demand spikes based on outdoor project timing. Hiring is ideal for covering seasonal needs.
Spring
Tillers, cultivators for preparing gardens
Lawn mowers, aerators, dethatchers for yard revival
Pressure washers for exterior cleaning
Concrete/mortar mixers for landscaping projects
Summer
Carpet cleaners for deep interior refreshing
Generators for power during intense heatwaves
Fall
Wood chippers and shredders for leaf and yard waste reduction
Log splitters for stocking up on firewood
Plan ahead and reserve popular seasonal tools to ensure availability!
The Evolution of Tool Design and Hire Trends
In past decades, the models available from hire firms tended to be well-worn professional gear bordering on obsolete. But as contractors increasingly buy their own modern tools, hire companies now stock late-model specialty equipment geared toward homeowners.
Advancing technology also continually improves tools. Key design evolutions include:
Shift from corded to cordless power tools
Lithium ion batteries for extended runtime
Brushless motors requiring less maintenance
Advanced ergonomic and safety features
Precision components like laser guides
"Smart" tools with usage sensors and onboard computers
The days of hiring faulty antique tools are over. Expect modern, high-performing designs aligned with the latest industry innovations.
Innovations in the Tool Hire Industry
Ongoing developments continue improving the tool hire experience with greater convenience and tech integration. Key innovations include:
Digital bookings – Reserve tools 24/7 online and compare companies
Third party booking – Aggregator sites consolidate inventory from multiple hire firms
Mobile apps – Initiate and manage bookings entirely from your smartphone
Smart tools – Embedded sensors enable usage monitoring and prevent misuse
Delivery networks – On-demand tool delivery mirrors food and grocery apps
Virtual Reality – Demo tools digitally with virtual try-before-you-hire
The Internet of Things – Tools sense needs and automatically place orders for replacements
3D Printing – Custom fabricate niche tools and parts locally on demand
Technology will continue driving greater integration and intelligence in tool hire. Stay tuned for the next innovations!
The Impact of Technology on Tool Hiring
Advancing technology transforms the tool hire experience. Key impacts:
Comparison shopping – Online listings allow comparing company selection, availability, rates
Bookings – Instant online and app-based reservations provide 24/7 convenience
Reviews – Rating sites help discover reputable local companies and avoid poor service
Virtual demos – Try tools digitally with video demos and VR simulations before hiring
Smart tools – Embedded sensors enable monitoring usage, preventing misuse/damage/theft
Inventory management – Tools tagged with RFID chips optimize tracking and enable automated reordering
Delivery networks – Hire firms utilize logistics tech allowing on-demand delivery like Uber
Payments – Apps and websites facilitate easy digital payments and deposits
Technology improves access, information, and convenience – getting the right tools in your hands faster. The hire experience will only get smarter.
Delivery and Pickup: Simplifying Tool Hire
Traditionally, tool hire required visiting a physical store to pick up and return equipment. But delivery networks now offer the convenience of tools shipped to your doorstep.
Home delivery options allow you to hire tools completely online or via mobile apps. Benefits include:
Avoiding an extra trip to the hire facility
Tool delivery on your schedule
No transporting bulky/heavy tools in your vehicle
Reduced risk of damage by having tools shipped in protective cases
Ability to track tools in transit until delivery
For small hand tools, postal services may suffice. Larger equipment requires dedicated delivery drivers with lift gates. Confirm delivery/pickup details when booking to make arrangements for accepting or returning heavy/oversized items.
Many hire firms now offer free delivery and collection with a minimum order value, making home tool delivery affordable. With delivery, you save time and hassle while still getting tools safely and reliably. Compare delivery policies across hire companies to capitalize on this growing convenience.
Maintenance Checks Before and After Hiring
To keep tools performing optimally, conduct quick maintenance inspections before and after your hire period.
Before
Check all parts move smoothly without binding
Inspect blades, bits, and accessories for wear, tears, cracks
Confirm safety guards and shields are in place
Test all controls and settings function properly
Review operating procedures in the manual
After
Clean accumulated dirt, dust, grease from tools
Check for loose or damaged parts
Ensure blade changes are made if required
Confirm all accessories are accounted for
Refuel petrol tools to the level at rental
Repack tools in provided cases/bags
Taking a few minutes to check tools in and out helps prevent damage and keep the fleet in top shape. Report any issues promptly.
The Role of Insurance in Tool Hiring
To protect against liability for injuries or damage, tool hire customers commonly take insurance policies like:
Loss/Damage Waiver – Refunds your deposit for accidental tool damage.
Loss/Theft Coverage – Protects if tools are stolen during the hire.
Public Liability – Covers property damage or injuries from tool operation.
Hired-In Plant – Insures larger equipment like lifts, generators.
Hirer's Transit – Covers tools during transport to/from site.
Policies cost 10-20% more but limit your risks. Compare plans across hire companies. Understand exclusions like commercial use. Insurance provides peace of mind.
Tool Hire for Professionals vs. Amateurs
Tool hire caters to both professional contractors and casual DIYers. Pros may need extended use and priority bookings. Request:
Professionals
Long-term rentals at discounted monthly rates
High-demand tools reserved in advance
Early delivery times to suit full workday
Pickup from site to save transit time
DIYers
Short term 4-24 hour rentals
Basic hand and power tools
Guidance to learn proper tool techniques
Weekend availability
Reputable companies aim to satisfy all customers. Be clear on your experience level and project details to receive the ideal service.
Collaborative Communities and Tool Sharing
For DIYers seeking camaraderie and an affordable alternative to traditional tool hire, community workshops provide peer-to-peer tool sharing.
These membership-based organizations provide shared space and equipment for DIY projects. Benefits include:
Paying small monthly fees instead of each tool rental
Getting guidance from experienced members
Meeting fellow DIY enthusiasts
Access to uncommon specialty tools
Events, classes and training sessions
While not a full-service replacement for hire companies, community workshops create a collaborative DIY environment. Discover if one exists in your area!
Tool Hire Workshops and Training Sessions
To help customers achieve safe and satisfying results, some hire firms offer free workshops or discounted classes covering tool skills.
Introductory workshops provide overviews of:
Operating different tool types
Usage tips and best practices
Safety protocols
Maintenance and care
Advanced fee-based classes provide in-depth instruction on specialty tools through:
Hands-on operation demos
Complex project walkthroughs
Training from experienced tradespeople
Seeking training shows commitment to using hired tools properly. Improve your skills and avoid damage. Ask hire companies about available educational opportunities.
Safety First: Protective Gear and Tool Hire
Tool hire companies aim to ensure safety by providing guidance on proper protective gear for each tool's intended use. Customers must use it responsibly.
Common protective equipment includes:
Respirators – Filter dust generated from tools like concrete saws, sanders and planers.
Ear Protection – Shield hearing from loud power tools. Choose earmuffs or earplugs.
Eye Protection – Goggles, face shields and safety glasses prevent eye injuries from debris.
Gloves – Guard hands from sharp blades, rough materials, and pinching.
Clothing – Wear well-fitted clothes without loose ends that could catch in tools.
Don't take shortcuts – always use the recommended safety gear. It's inexpensive protection against severe, life-altering injuries.
The Environmental Savings of Tool Hiring
The tool hire model offers clear environmental benefits compared to traditional purchasing. By keeping tools circulating in use longer, hiring reduces:
Raw material consumption – Less plastic, metal, minerals, and lumber used in manufacturing
Carbon footprint – Lower energy demands for tool production, transport, disposal
Waste – Longer tool lifecycles mean less equipment discarded in landfills
Pollution – Decreased emissions from intensive manufacturing and transportation
Resource depletion – Less demand for mined metals like lithium, copper, cobalt
Widespread adoption of tool libraries and hiring would significantly benefit the planet. The sharing economy aligns with sustainability.
The Social Impact of the Tool Hire Model
In addition to environmental benefits, tool hiring also offers social advantages over traditional purchasing models:
Reduced consumption – The sharing model promotes more mindful and minimal consumption
Local community – Smaller niche hire shops build personalized customer relationships
Skill development – Tool libraries offer hands-on education and peer training
Wealth access – Hiring provides access to expensive tools regardless of income and wealth constraints
Creative outlets – Access encourages more people to pursue passion projects and hobbies
Connection – Membership-based community workshops cultivate a collaborative DIY ethos
Tool sharing minimizes unnecessary ownership and waste while bringing people together for knowledge exchange and skill development.
Exploring Global Trends in Tool Hiring
The tool hire industry differs across global regions. Examining key trends worldwide provides insight:
In America and Europe, tool libraries and sharing have grown as part of the expanding sharing economy. Digital platforms enable greater convenience.
Australia's tool hire growth mirrors the rise in DIY home projects. Bunnings Warehouse dominates with over 300 stores.
Asia's expanding middle class and construction boom is driving tool hire demand. China's Cheung Shing leads.
Africa remains largely informal, with small shops renting basic tools, but increased investment may consolidate hire firms.
South America shows promise, with Brazil's TomaFer and Mexico's Rentato leaders in equipment rental services.
While regional models vary, the core advantages of hiring over buying remain consistent across diverse global markets.
The Economic Implications of Tool Hiring
The tool hire model influences wider economic factors including employment, small business health, and consumer spending power:
Jobs: Hire shops provide local jobs, as does greater construction activity and DIY projects enabled by accessible tool rental
Business activity: Small, independently-owned tool hire shops boost local ownership and entrepreneurship
Consumer spending: Money saved on tool purchases allows reallocation to other goods and services
Credit access: Consumers avoid financing costs for expensive tool purchases, improving cash flow
Market optimization: Shareable capital equipment increases efficiency, allowing labor to become the primary paid service
Tool sharing proves a wise economic investment at both the individual and societal scale. Society prospers when limited resources are utilized to their fullest potential.
Challenges and Solutions in the Tool Hire Industry
Despite the many benefits, tool hiring faces obstacles inhibiting wider adoption. But strategies exist to overcome them:
Challenge: Low consumer awareness
Solution: Increased marketing, better online visibility of hire options
Challenge: Lack of specialty inventory
Solution: Crowdfunding to purchase niche tools, sharing across libraries
Challenge: High overhead costs
Solution: Partnerships with retailers to co-locate in existing stores
Challenge: Geographical limitations
Solution: Delivery networks to transport tools directly to customers
Challenge: Damage and theft
Solution: Deposits, theft protection plans and consumer education
By identifying pain points, the tool hire industry can continue evolving more user-friendly and cost-effective models to achieve sustainability and mainstream adoption.
Conclusion: The Sustainable Future of Tool Hiring
Tool sharing provides greater access alongside economic, environmental and social benefits – aligning strongly with the values of sustainability and conscientious consumption.
With convenient digital booking platforms and delivery networks overcoming geographical barriers, tool libraries and hiring firms are poised for massive growth and mainstream adoption in the coming years.
In an increasingly disposable world, tool hire offers the sharing model as an antidote – keeping equipment active across many users and reducing waste. Hiring transforms tools from expensive static possessions into flexible resources producing value over decades of use.
For individuals, tool hire provides cost savings, convenience, and expertise. For society, it enables smarter resource utilization. For the planet, it reduces waste and emissions. Tool sharing points toward a more sustainable future.